Welcome!
WORSHIP TIMES
First Service – 8:30am
Sunday School – 9:45am (Youth & Adult Options) Second Service – 11:00am
Nursery is provided
OUR ADDRESS:
656 West Creek Road P.O. Box 310 Cogan Station, PA 17728
Look below at our list of typical FAQ's (Frequently Asked Questions) for some helpful information about our church. We hope to see you soon!
---
Who are we?
Lycoming Centre is a loving, caring, orthodox and Biblically conservative congregation. We are members of a new Presbyterian denomination: the Evangelical Covenant Order of Presbyterians (ECO).  You can read more about it here:  
eco-pres.org
  While our church has a rich history being founded in 1847, we continue to look forward to God's work in and through our congregation. We have a relatively young congregation with the largest age group falling between the twenty-five to fifty-five year-old age category. We welcome all who seek a relationship with the Triune God, the love of the Father, the grace and truth of His Son, Jesus Christ and the fellowship of the Holy Spirit.
---
What worship services do you offer?
There is a traditional worship service at 8:30 AM and a blended worship service at 11:00 AM that includes contemporary praise and worship songs as well as hymns. During the summer months we offer a single worship Service at 10:15 AM.
---
How do I become a member?
If you are interested in becoming a member of LCPC please talk to Pastor Jerry Fourroux or any Elder about attending membership/confirmation classes.
---
Do I have to be a member of Lycoming Centre to receive communion?
The communion table is open to all who proclaim Jesus Christ as their Savior from sin and who seek to follow him as the Lord of their life. If you are a disciple of Jesus Christ, you are welcome to share in the bread and cup of communion with us.
---
When does Lycoming Centre offer communion?
Communion is celebrated the first Sunday of each month.
---
May I have my child baptized at Lycoming Centre?
Parents wanting to have their children baptized are expected to attend a one-session class with the pastor that unpacks what baptism is all about and how LCPC aims to support spiritual growth in families. Simply call the church office 570-494-0474 in order to schedule this class. Because we understand the sacrament of baptism to be a sign of entrance into the life of discipleship (Matthew 28:20), those bringing children for baptism should be members of Lycoming Centre or some other church where they can actually grow up in a life of Christian discipleship.
---
Can I be married at Lycoming Centre?
Contact the church office to explore the possibilities. If you are engaged, we join you in celebrating that wonderful news! While you do not have to be a member of LCPC to hold your wedding here, the pastor is expected to coordinate and officiate at any wedding service associated with the church.
---
Where are the church offices?
Offices are in Faith Centre, the white building located directly behind the Christian Education building. Pastor Jerry Fourroux's office, the Administrative Assistant, Youth office, conference/meeting rooms and reference library are housed here. LCPCs Administrative Assistant hours are Tuesday thru Friday, 7:30 AM to 3:30 PM. To meet with Pastor Jerry please call the office for an appointment. The office phone number is 570-494-0474.
---
Is your church kid friendly?
At Lycoming Centre we have a special place in our hearts for the children God has made a part of our congregation and we celebrate all the joy and noises that accompany our children during services! Each Sunday, Rev. Jerry Fourroux, Jr. has a special time for children to learn about the sermon's message and then children age 4 through 2nd grade are welcome to attend Children's church in Hallelujah Hall or to stay with their parents. Activity bags are provided by the entrance if you wish to have your child(ren) stay and listen. For children 3 years old and under, a nursery is available downstairs with trained and certified staff.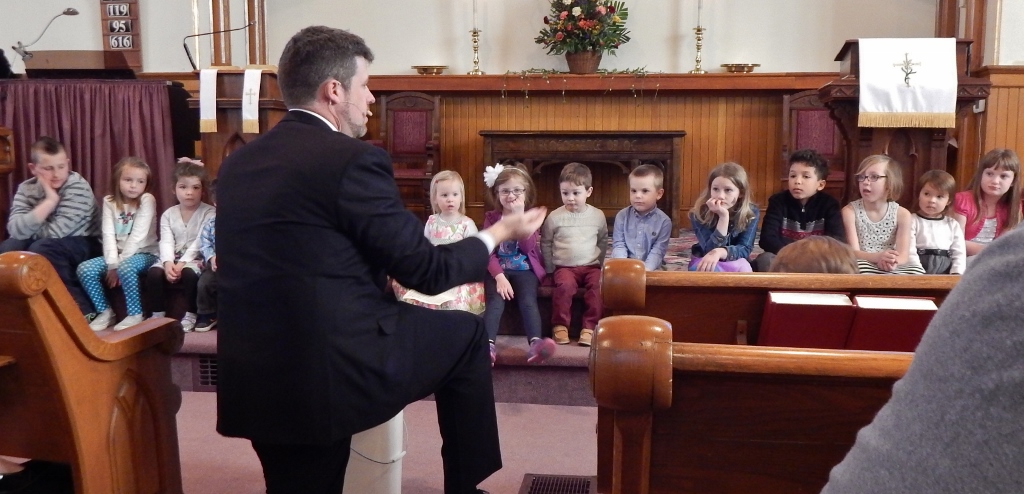 ---
Do you have nursery/child care available during your worship services?
Yes, on the lower level of the Christian Education building there is a room for infants and an adjoining room for toddlers up to three years old.  Care is provided by trained staff. Nursing moms are welcome to enjoy the sermon from the privacy of our special nursing room downstairs that includes rocking chairs, a changing table, and a screen for watching the sermon through live streaming.
---
What training is given to nursery staff?
All staff, including teen helpers, attend a child care and first aid training course. All adult child care staff are required to follow Act 33 guidelines and submit a PA State Police Request for Criminal Record Check Form (SP4-164). We cherish our little ones and seek to provide the best care possible.